Vikram Vedha Review 4.0/5 & Rating
VIKRAM VEDHA is the story of a police officer trying to hunt down a feared criminal. vedha (Hrithik Roshan) is a Lucknow gangster who has committed 16 murders to date. He has become so notorious that Uttar Pradesh Police have created a Special Task Force (STF) to take care of him and his gang. Led by Vikram (Saif Ali Khan) the squad receives a tip that Vedha's gang members are hiding in an abandoned building far away. Vikram, his best friend Abbas (Satyadeep Mishra) and others from the STF arrive at the location with the intention of killing them. As planned, the STF eliminates everyone present, although one of them was willing to surrender. This gangster, Muni (Amarjeet Singh), even offers bribes in exchange for his life. However, Vikram is an honest cop and he kills him. When checking the crime scene, the cops found that one of the dead had no weapon with him and was presumably innocent. Realizing this could get them in trouble, Vikram tells his colleagues to plant a gun in his hand and make it look like he shot the cops, prompting the police to open fire as well. Vedha was not present at this location and the search for him continues. One day the police receive a tip about his whereabouts. As they prepare to leave the police station to kill Vedha, they get the shock of their lives. Vedha coolly goes into the police station and surrenders! The STF members interrogate him one by one, but he doesn't open his mouth. When Vikram finally sits across from him, Vedha asks him to hear his story. He takes him back to the 13 years when he worked for a Kanpur based criminal, Parshuram (Govind Pandey) and how he gained his trust. He also tells him about his brother Shatak (Rohit Saraf), his childhood friend Chanda (Yogita Bihani) and what led him to commit his first murder. He also puts Vikram in a dilemma as Vedha's story changes his perception of good and evil. Unfortunately for Vikram, before he could hear more stories from Vedha, the latter posts bail. And the lawyer who does this is none other than Priya (Radhika Apte), who is also Vikram's wife. What happens next forms the rest of the story.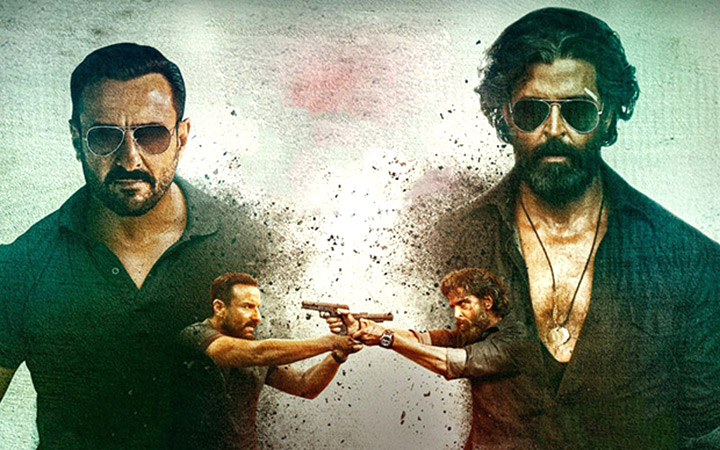 The story of Pushkar-Gayatri is quite simple, but it was written in a back-and-forth, which makes it worth reading. The screenplay by Pushkar-Gayathri (Hindi adaptation by BA Fida) is entertaining and also thought provoking. One of the greatest strengths of writing is that it surprises at regular intervals. It's intelligent and the way every aspect and plot point is neatly connected in the climax is believable. However, the romantic parts of Vikram and Priya could have been written better. Manoj Muntashir and BA Fida's dialogues are tough. That's important for a film like this, where dialogue plays a crucial role.
The leadership of Pushkar Gayatri is wonderful and deserves accolades. They had also directed the 2017 original Tamil film of the same name and there was no change in terms of the plot. However, some changes have been made in certain places that will amaze even those who have seen the original. Speaking of other achievements, they effortlessly set the story in Lucknow and the characters, all grey, are very well fleshed out. And unlike other Tamil or Telugu remakes, this isn't your typical masala dish. It has action, but it also relies heavily on that dialogbaazi. And the latter is also fully at your expense.
On the other hand, VIKRAM VEDHA is a lengthy affair at 159 minutes. In fact, it's also longer than the original film. Interest wanes after Saif Ali Khan's powerful performance. Hrithik Roshan's entry is after 20 minutes and until then one tends to get restless. There are also scenes in the second half where the film falters a bit. The slapping scene between Shatak and Chanda could have been executed better. Finally, the authors skip certain developments in the narrative. The intention, of course, was to keep the focus on the main storyline. Still, you wish you could take care of it. For example, in the scene before the break, Vedha tries to run away from the police and encounters a girl who is learning karate. The way she smiles at him and even helps him shows that he was a messiah for the residents. But why and how this happened is never shown. For a film where everything is there for a reason, this aspect doesn't add up. Thankfully, there are minor flaws that don't particularly affect the narrative.
VIKRAM VEDHA starts with a nice animation montage explaining the story of Vikram and Betal. Vikram's performance is heroic and the encounter sequence sets the pace. However, Vedha's entry is terrific and not only cinemas with a screen, but even multiplexes would thunder with whistles, claps and howls at this point. All the scenes of Vikram and Vedha together from here on out are superb. The Kanpur sequence is surprising as the creators changed the plot point and it's too good. The use of the song 'Jeena Isi Ka Naam Hai' is funny. Abbas' encounter and the scene in which Vikram follows Priya are gripping sequences. The break fight is decent, but the break point has more of a massive appeal. After the break, interest continues as Vedha continues to talk about his life. The scene where Vikram goes into an action mode while trying to hunt down the informant and the sequence after that is terrific. The climax is the best part of the film.
Vikram Vedha Official Pendant | Hrithik Roshan, Saif Ali Khan, Pushkar & Gayatri
VIKRAM VEDHA rests on the strong shoulders of Hrithik Roshan and Saif Ali Khan. Hrithik Roshan slips into the character's skin and delivers one of his finest performances. He carries the swag and attitude with extreme ease, taking the film to another level. It's also amazing how you can't compare his work to that of Vijay Sethupathi in the original film. He portrays the character a little differently, and fans of the original will have no reason to complain. Saif Ali Khan is also at his best. He also has his share of massive dialogue and sequences, and his strong personality works perfectly for the character. It's also commendable that the two actors never try to dominate each other. They just fit the character and the result is magical. Radhika Apte has a supporting role but delivers a fabulous performance. As expected, Sharib Hashmi (Babloo) puts in a memorable performance. Rohit Saraf has a late entry but leaves a mark. Yogita Bihani's performance is sincere. Ishan Tripathi (Young Shatak) and Drashti Bhanushali (Young Chanda) also do well. Satyadeep Mishra is reliable. Manuj Sharma (Deepak; the newcomer to Vikram's team) is fine. Govind Pandey, Amarjeet Singh and others are decent.
The music goes well with the narration. 'alcohol' is the best song of all and Ganesh Hegde's choreography adds to the fun. 'Band' is the theme song and will be remembered even after leaving the theater. 'O Saahiba' and 'yara' are forgetful. Background music by Sam CS is the third hero of the film after Hrithik Roshan and Saif Ali Khan! In several places, it's the background music that adds to the crowd element.
PS Vinod's cinematography is great. The action and confrontation scenes are neatly shot and pay attention to his camerawork in the 'alcohol' Song. Parvez Shaikh's action is raw and fantastic. Darshan Jalan and Neelanchar Kumar Ghosh's costumes are realistic yet stylish. Durga Prasad Mahapatra's production design is authentic. Anuj Deshpande's VFX is appropriate. Richard Kevin A.'s cut is fair, but could have been tighter in some places.
Overall, VIKRAM VEDHA is brilliant mass fare that works because of the strong writing, unpredictable moments, outstanding performances from Hrithik Roshan and Saif Ali Khan, and electrifying background music. It is sure to have a fantastic weekend at the box office due to the positive word of mouth and will be a hit in cinemas until Diwali. The midweek Dussehra Holidays will also support the first week's collections. Recommended!