advertisement

Ashito and Shiba finally showed their monstrous abilities in the previous chapter. Everyone was surprised to see that Ashito understood Shiba's move and successfully received his Killer Pass. Nobody ever thought that Ashito could team up with Shiba. However, it will remind Shiba of his past in Ao Ashi Chapter 303. Now Shiba will remember when he was young and acted just like Ashito. He will be impressed by his movements and will support him throughout the process. Read on to find out what unfolds next in the story.
Now in the 303rd chapter, Shiba will remember his past. He would remember how skinny he was, which affected his training time. However, everything changed when he received an invitation from the pro team. That moment changed everything in his life.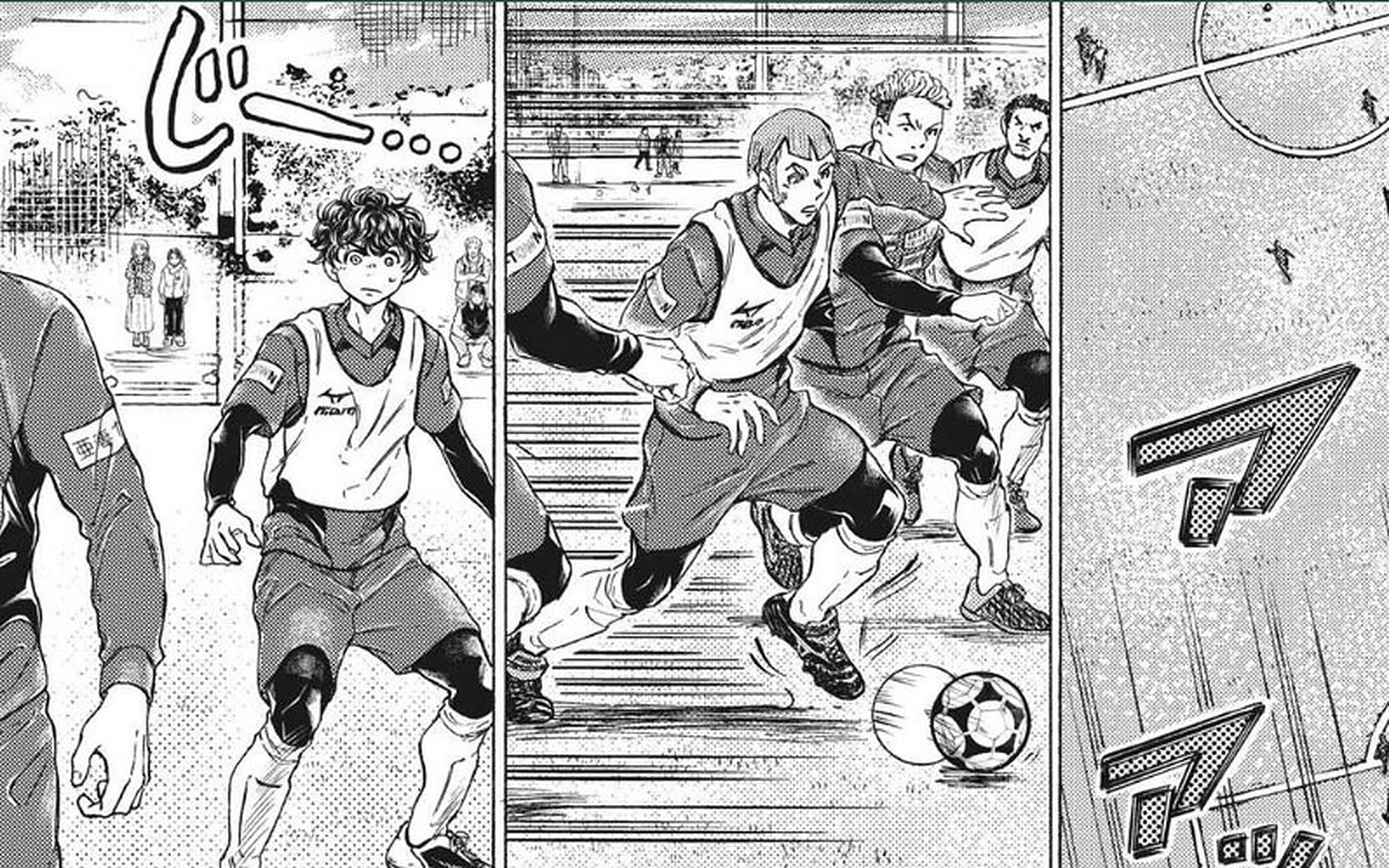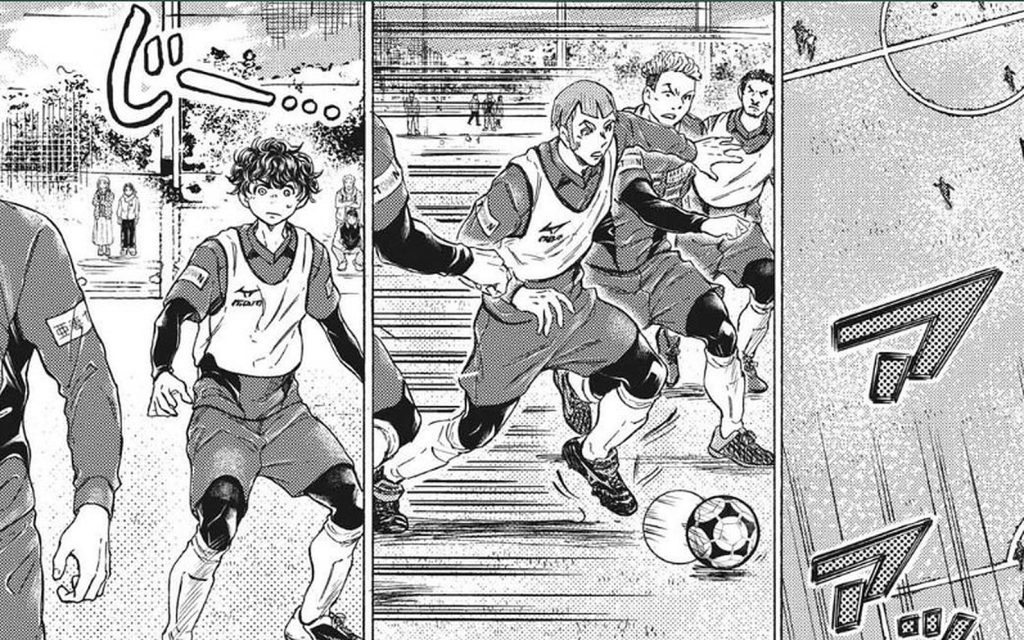 Ao Ashi Chapter 303: What Will Happen Next?
The following chapter continues with intrasquad scrimmage. Shiba will remember that he wasn't a professional player to begin with. Soon it will focus on some flashbacks. It will shift to Shiba's HS days, where his trainer emphasized that while Shiba has excellent technique, he still lacks the physical ability. But one day, an Esperion scout invites Shiba to join Esperion's training sessions. He seems stunned that a pro team has asked him to join them and sees this as his first and last opportunity to excel.
But during training, the pros toss him like a rag doll, while others cannot believe that someone like Shiba is actually trying to become a pro. He soon begins to lose faith, but in a pinch, he figures out how to make it with his skinny body. After two years of college, Shiba gets another call from Esperion. After turning pro, he vows to listen to the advice of his manager, coach, teammates and others to get stronger. He chooses to rely on his brain and eyesight to hide his lack of physical ability. One day while playing Hiroshima, Shiba learns that other players don't think so and sends a killer pass that results in a goal from Esperion. Since that day he understands that his game is becoming more intuitive.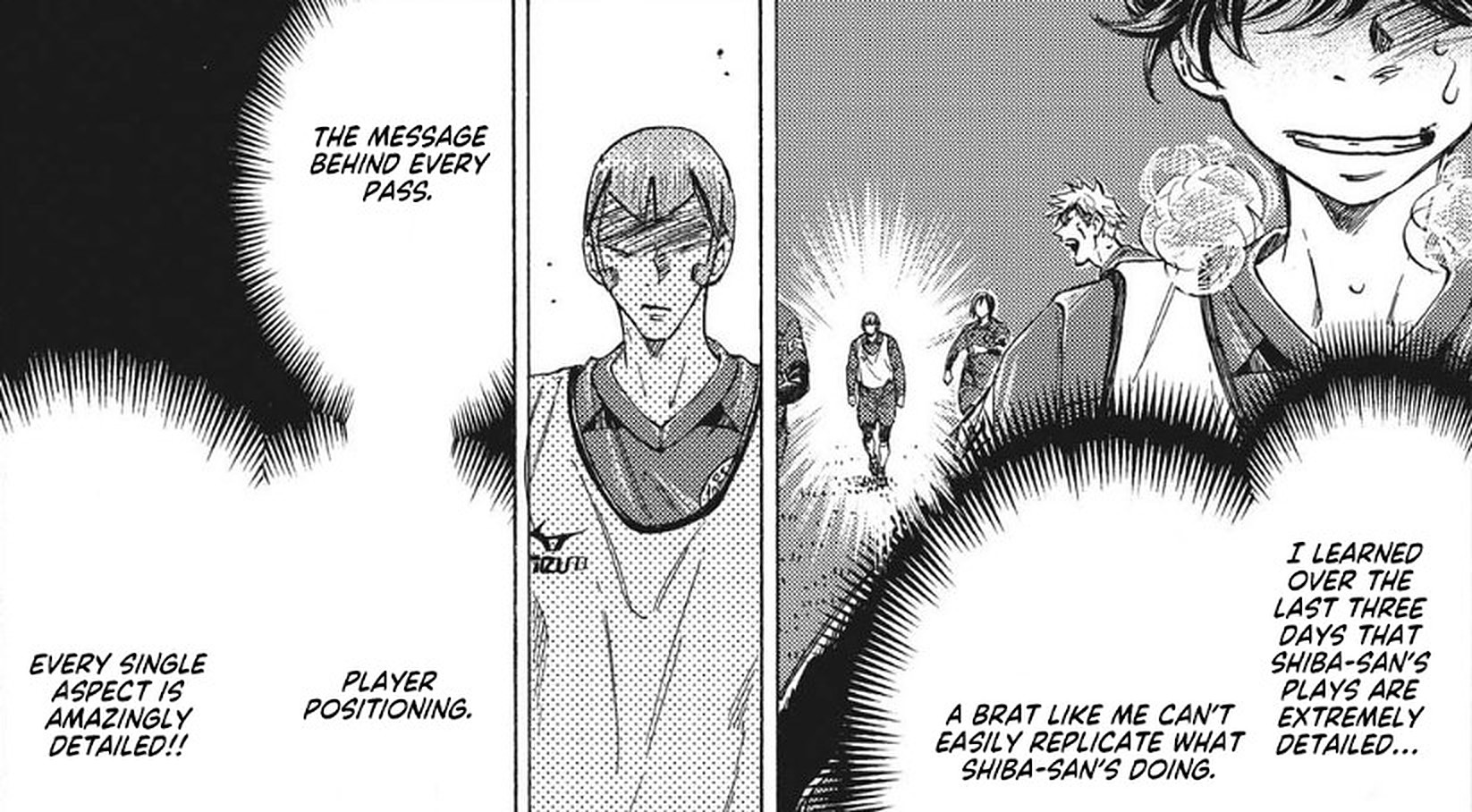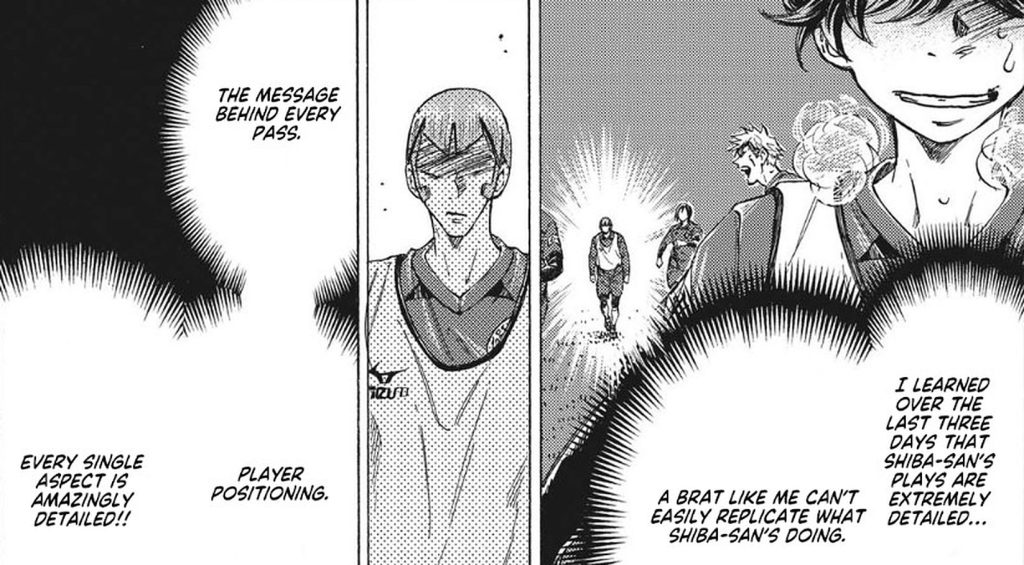 A short summary!
Previously, in Ao Ashi Chapter 302, Kaneko was surprised to see Ashito successfully obtain Shiba's Killer Pass, which was his best in those three days. As for Ashito, he knew Shiba was a world class player and he was starting to see it. But the defenders quickly formed a defensive line near Ashito. Kaneko soon noticed that Ashito openly attacked, leaving a space open in the opposite direction. Yuuma received the pass and scored a goal. Everyone was enthusiastic about their team and cheered for the young players. Kaneko was excited to see the connection between Ashito and Shiba and how they could connect with looks.
Ashito reflected on his skills on the field and how dedicated he was to training himself just by watching Shiba-san. But it wasn't easier for a boy like him to understand every trick of Shiba. His body and posture were a bit different, which made everyone scary. Meanwhile, Kuribayashi called Deguchi to stop Ashito from moving forward in line. While the trainers seemed impressed with Ashito's moves, he wondered why Shiba didn't send him another pass. Meanwhile, Shiba pondered the play. He wondered if Ashito understood the positions of his teammates and opponents, it would be easier for them. Shiba then passed another killer shot to Ashito, this is how the monsters played on the field.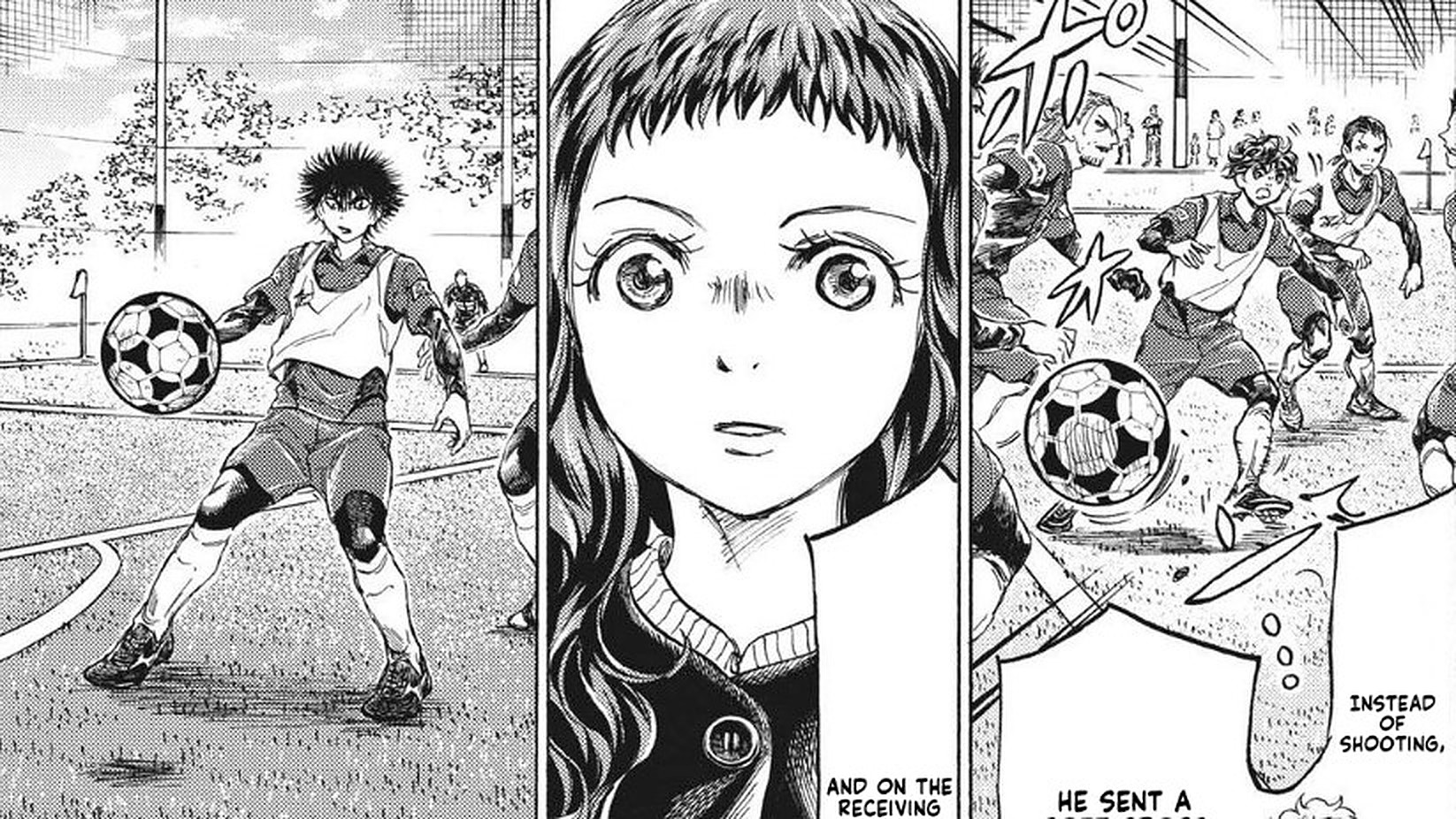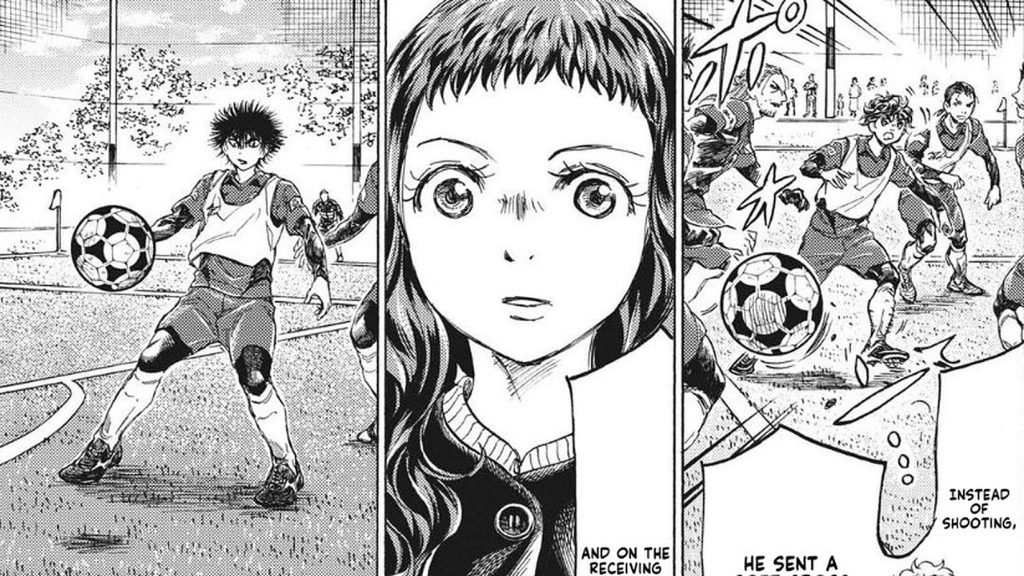 Ao Ashi Chapter 303: Release Date
Ao Ashi Chapter 303 will be released on August 14, 2022. It will be available on Shonen and MangaPlus official sites. The following chapter focuses on Shiba's journey and how far he went to become a pro gamer. He will see himself in Ashito and appreciate his efforts. Stay tuned. The Anime Daily keeps you updated.
advertisement