Runway 34 Rating 3.0/5 & Rating
RUNWAY 34 is the story of a pilot going through a difficult time. Captain Vikrant Khanna (Ajay Devgn) is a pilot with Skyline Airlines. He is in Dubai on August 16, 2015 and is scheduled to fly to Cochin the next day, where he is also stationed. Vikrant's girlfriend Sandy calls him to a party at night. Vikrant initially refuses. But then he gives in. He goes to a nightclub in Dubai with his buddy and drinks a lot. He reaches his hotel at 6am and goes to bed. He wakes up on time and makes his way to the airport to fly the Skyline 777 flight from Dubai. His co-pilot is Tanya (Rakul Preet Singh). Both are informed before the flight that Cochin will be rocked by heavy rains. The plane takes off and when it's time to land, Vikrant and Tanya face trouble. Air traffic control in Cochin advises them to land in Trivandrum instead, where the weather is better. Despite this, Vikrant tries to land but fails. Then he goes to Trivandrum. Until then, the weather of Trivandrum will also deteriorate. For some reason, Cochin's air traffic control team does not inform Vikrant and Tanya not to fly to Trivandrum. By the time Skyline 777 reaches Trivandrum and is informed of the situation by the Air Traffic Control team there, it is too late. They have nowhere else to go because they're running out of fuel. With no other option, the pilots decide to land at Trivandrum Airport. Air traffic control personnel advise them to land on runway 16. However, Vikrant insists on landing on runway 34, which the air traffic control team says is a risky move. Nevertheless, Vikrant sticks to his plan and, with great difficulty, successfully lands on runway 34. However, the problems are far from over. The AAIB wants to investigate whether any rules were broken when the flight landed. Narayan Vedant (Amitab Bachchan) from AAIB takes personal interest and decides to drill Vikrant and Tanya. What happens next forms the rest of the film.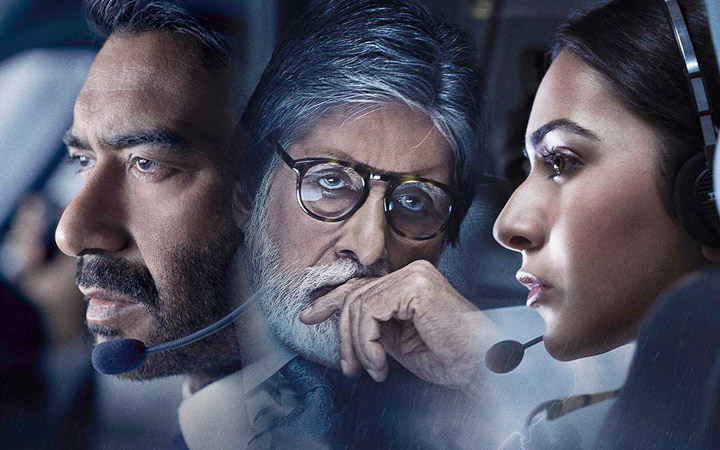 Inspired by true events, Sandeep Kelwani's story is novel as it follows a turbulent flight and its aftermath. Never before has such a film been made on this subject in Bollywood. The screenplay by Sandeep Kelwani and Aamil Keeyan Khan is very effective in the first half, especially in the airplane scenes. Post break, but the writing could have been better and not so conversational. Sandeep Kelwani and Aamil Keeyan Khan's dialogues are sharp. A few one-liners will elicit laughs.
Ajay Devgn's directing is decent. He earns brownie points for captivating the audience in the first half. The way he kept the focus on what was happening in the cockpit is believable. The break point is commendable. Narayan Vedant's arrival in the second half adds to the excitement. However, the court drama, which should have been just as exciting, drags on at this point and becomes too talkative. However, a few moments stand out. However, it is too tedious.
The beginning of RUNWAY 34 is okay and shows how Vikrant was partying the day before. The movie gets better once the flight takes off. The scene where Vikrant emerges from the cockpit and calms angry passengers is a memorable sequence. The same applies to the break point. In the second half, Narayan Vedant's track entry is quite good. In the courtroom drama part, the scene where Vikrant takes a polygraph test and where Tanya blurts out that Vikrant might have been drinking while flying the plane stands out.
Runway 34 | Official Trailer 2 | Amitabh Bachchan, Ajay Devgn, and Rakul Preet Singh
Speaking of performance, Ajay Devgn is in great shape as always. He's a bit relaxed in the opening scenes and how that changes when he realizes the plane may crash. His silence also speaks a lot in the interrogation scenes. Rakul Preet Singh is quite impressive, especially in the first hour. Amitabh Bachchan is a late entry but obviously manages to rock the show. Angira Dhar (Radhika Roy) doesn't get much leeway. Boman Irani (Nishant Suri) is fine but his track is weak. The same applies to Aakanksha Singh (Samaira; Vikrant's wife) and Vijay Nikam (Tripathi; ATC staff in Trivandrum). Hrishikesh Pandey (Yusuf Rangoonwala) is finished. Carry Minati plays himself and is funny. Flora Jacob (Alma Asthana) stands out.
Jasleen Royal's music is unforgettable. 'Mitra Re' and 'The Autumn Song' don't even register. The background music by Amar Mohile increases the tension.
Aseem Bajaj's cinematography is spectacular, especially in the cockpit scenes. Despite the lack of space, the lens man manages to come out with flying colors. Production design by Sabu Cyril, Sujeet Subhash Sawant and Sriram Kannan is realistic. Navin Shetty, Uma Biju and Radhika Mehra's costumes are authentic. Bishwadeep Dipak Chatterjee's sound adds to the realism. NY VFXWaala's VFX is commendable. The editing of Dharmendra Sharma is weak.
Overall, RUNWAY 34 shines with good performances, technical brilliance and a gripping first half. However, the slow and talkative second half weakens the effect considerably. At the box office, the film will appeal to a multiplex audience.