Main Rating 3.0/5 & Rating
HEAD is the story of a brave soldier. The year is 1995. Sandeep Unnikrishnan (Adivi Sesh) lives in Bengaluru with his father (Prakash Raj), mother (Revathy) and sister Sandhya. Sandeep is a student and has already planned to join the Defense Forces. Rejected in the Navy, he then attempts to enlist in the Army. He succeeds and turns out to be a brave and kind soldier. He marries his childhood sweetheart Isha (Saiee M Manjrekar). In 2008 he was deployed to Manesar, Haryana as a Training Officer of the 51st National Security Guard (NSG) Special Action Group. He is so devoted to his work that he cannot devote any time to Isha. On November 26, 2008, he received a letter from Isha urging him to fly immediately to Bengaluru, where she is based. However, he has to cancel the ticket when he learns that Mumbai is being shaken by terrorist attacks. He flies to Mumbai with his regiment and goes to the Taj Mahal Palace Hotel to save the citizens and eliminate the terrorists. What happens next forms the rest of the film.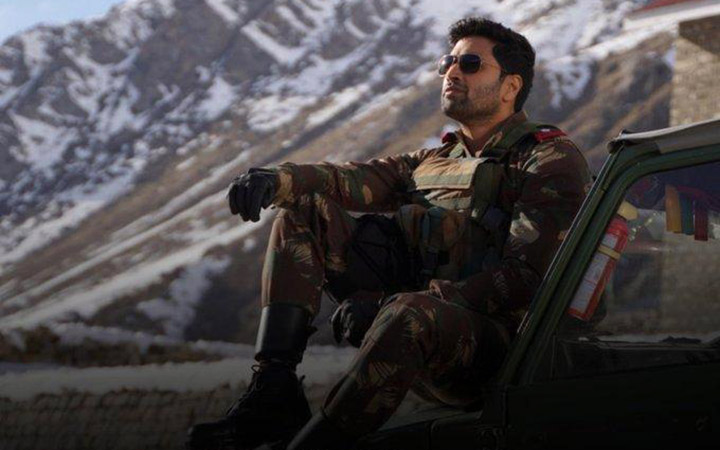 Adivi Sesh's story is a bit cliche, but it still works. The script by Adivi Sesh (writing by Abburi Ravi) is quite effective, especially when the 26/11 track starts. He spices up the story with some exciting and touching moments. Akshat Ajay Sharma's Hindi dialogues are chatty, while some one-liners hit hard.
Sashi Kiran Tikka's directing is top notch. He faced a difficult challenge as MAJOR is in the same room as SHERSHAAH [2021], which is also a biopic of a brave, deceased soldier, with a special focus on his love life. Surprisingly, the director comes off with flying colors as he makes sure MAJOR doesn't get any déjà vu from starring Sidharth Malhotra-Kiara Advani. He treated the film very commercially. While he manages the action and suspenseful scenes well, it's the emotional aspect that works great. On the other hand, the first half doesn't hold up too well, especially the love story, as it doesn't feel organic. Meanwhile, the romantic track in the second half seems like a roadblock. The second half is also a bit long-winded.
MAJOR starts fine. The childish and romantic parts are fine. The training scenes seemed routine at first. Thankfully, the scene where Sandeep hands his colleague the glass of water and kneels respectfully in the military mess is quite novel. The break comes at a great time. After the break, the film is gripping except for Isha's flashback. Pramoda Reddy's (Sobhita Dhulipala) track adds to the suspense and is well woven into the main narrative. The last 20-25 minutes are great. The film ends on a very emotional note, although Prakash Raj's closing speech could have been more impactful.
Saathiya-Major | Adivi Sesh & Saiee M. Manjrekar
Adivi Sesh delivers an overwhelming performance. He looks smart and also convinces as a trained soldier. Unlike Allu Arjun or Prabhas, he is not yet known to Hindi audiences through the dubbed versions of his films. After MAJOR, however, he will gain a lot of notoriety nationwide. Saiee M Manjrekar looks cute but her performance is not up to the mark. Prakash Raj is reliable as always. The scene where he runs to give form to Adivi is memorable thanks to his excellent acting. Revathy is top notch. Sobhita Dhulipala is pretty good in a supporting role. Murli Sharma (Shera) is fine. The actors who play Sandhya, the foreign girl Shirley and the villainous army colleague Harsh also do well.
Sricharan Pakala's music is bad. 'Oh Isha' and 'Saathiya' are well placed, but these tracks will not have durability. The background music by Sricharan Pakala is quite powerful and adds to the effect.
Vamsi Patchipulusus cinematography is great as it is neat and uncomplicated. Avinash Kolla's production design is rich. The plot by Sunil Rodrigues is one of the film's USPs. The violence is limited and not bloody at all. Rekha Boggarapu's costumes are realistic while Saiee M Manjrekar's are glamorous. The VFX by Annapurna Studios are top notch. Vinay Kumar Sirigineedi and Kodati Pavan Kalyan's editing is astute.
All in all, MAJOR proves to the fearless hero of the terrorist attacks of 26.11. The film is embellished with a gripping second half and a bravura performance from Adivi Sesh. At the box office, it may not open grandly due to limited enthusiasm and awareness. However, it has the potential to go big through positive word of mouth.