Attack – Part I Review 3.0/5 & Rating
ATTACK – PART 1 is the story of the world's first super soldier. In 2010, Army officer Arjun Shergill (John Abraham) and his team infiltrate a terrorist camp and capture a feared terrorist, Rahman Gul. His teenage son Hamid Gul is found with a suicide bomb. Arjun defuses it and allows Hamid to survive. In the present, Arjun meets Ayesha (Jacqueline Fernandez), a flight attendant. Both fall in love and begin a romantic relationship. One day Arjun goes to meet Ayesha at the airport. This is when terrorists carry out a surprise attack. Ayesha is killed in the chaos and Arjun is badly injured. Arjun regains consciousness in the hospital, only to find that he is paralyzed below his neck. He gets depressed. Meanwhile, he learns that the now-adult Hamid Gul (Elham Ehsas) has carried out terrorist attacks against India. Due to these increasing threats, Subramaniam (Prakash Jha), a high-ranking officer in the Indian government, proposes starting a super-soldier program. Under this program, a soldier is surgically implanted with a chip. This makes him almost invincible and a one-man army. The Prime Minister agrees to the idea. Saba Qureshi (Rakul Preet Singh) is the idea behind this program and she insists that only a paralyzed soldier can be chosen for the experiment. Subramaniam approaches Arjun, who immediately agrees, despite knowing the experiment may fail. Luckily, the surgery is successful and Arjun is able to walk and move his limbs as before. Gradually he understands his strengths and knows how to use them. Before he can fully prepare himself, he is given a dangerous mission. Hamid Gul and his gang infiltrate the Indian Parliament. They take the prime minister and hundreds of others hostage, including Saba. What happens next forms the rest of the film.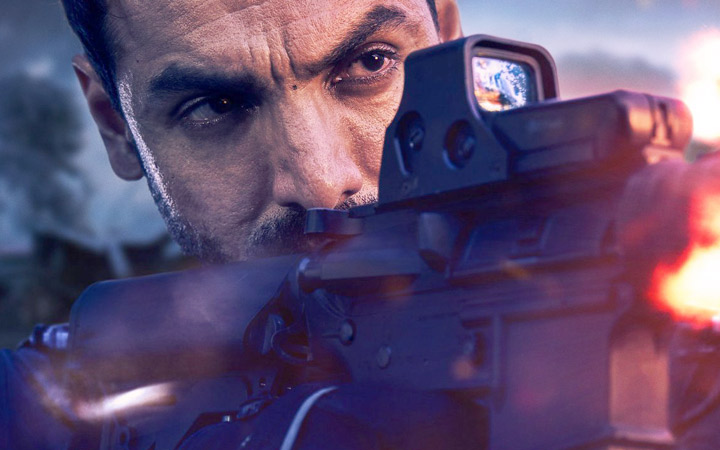 The Story of John Abraham is a novel for the Indian audience. No Bollywood film has ever grappled with this idea. The screenplay by Lakshya Raj Anand, Sumit Batheja and Vishal Kapoor has its merits. Writing is fast and effective. The whole idea of ​​the super soldier is explained in a way that even a layman can understand. Unfortunately, the authors screw up the climax. Also, some plot points in this room give a déjà vu of several Hollywood movies. The dialogues of Lakshya Raj Anand, Sumit Batheja and Vishal Kapoor are conversational.
Lakshya Raj Anand's direction is pretty good, especially considering this is his debut. ATTACK – PART 1 is an actioner and it ensures the film has enough fighting to keep it interesting. He also excels in the romantic parts. The emotional moments stand out too. Arjun's pain can be felt when he is confined to his bed or wheelchair. The way he transforms into a super soldier and understands what he's capable of makes a great watch. On the other hand, the action is reminiscent of movies like CAPTAIN AMERICA, AVATAR, INCEPTION and some other Hollywood movies. Arjun speaking to his AI assistant Ira resembles JARVIS from Iron Man, EDITH from Spider-Man, and Eddie Brock conversing with Venom. While the dramatic build-up is massive, the action sequences are westernized. The mass audience may not fully identify with it. A few developments are very handy.
ATTACK – PART 1 The beginning is subtle. The film picks up as Arjun courts Ayesha in flight. Arjun's accident and the scenes that follow are moving. The scene where Arjun is finally able to move his hand after surgery is commendable. The same goes for the sequence where Arjun fights the thieves. The break is exciting. After the intermission, a few scenes stand out, like the Minister of the Interior (Rajit Kapur) insisting on agreeing to the terrorists' demands, while the army officer opposes it and Arjun fights the baddies in the library and later in the central hall. The climax, as mentioned above, is an anti-climax.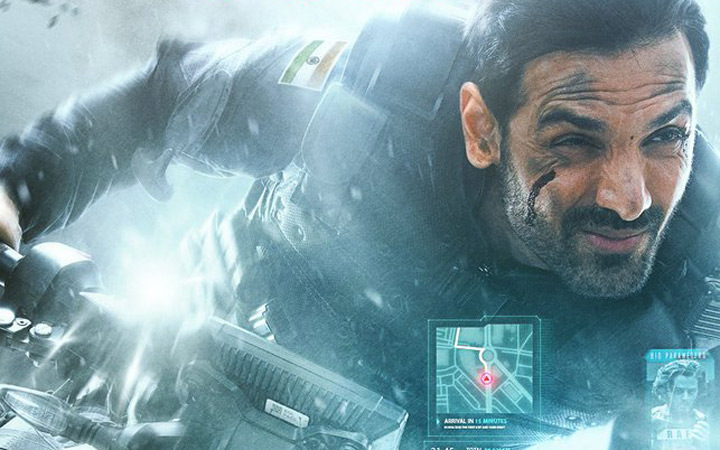 John Abraham is in great shape and way better than he has been in his last movies. He shines in the emotional scenes and is of course at his best when he's doing action. Jacqueline Fernandez is lovely in a cameo. However, it is too similar to her role in the recently released film BACHCHHAN PAANDEY. Rakul Preet Singh appears confident. She has a crucial role to play. Elham Ehsas is okay as a villain. Prakash Raj is quite entertaining. Ratna Pathak Shah is fine and has a crucial role in the first 30 minutes. Later she disappears. Rajit Kapur is great while Kiran Kumar (Army Chief) is wasted. The actor playing Rahman Gul is nothing special.
Shashwat Sachdev's music is weak. 'Ik Tu Hai' works depending on the situation. 'Main Nai Tuttna' and 'Phir Se Zara' Sign-in not possible. 'La La La' is the only song that stands out and is pretty catchy. Shashwat Sachdev's background music is stylish and works. The cinematography by Will Humphris, PS Vinod and Soumik Mukherjee is refreshing and some takes are memorably shot. Garima Mathur's production design is realistic, especially the Parliament Hall. Rohit Chaturvedi's costumes are glamorous yet straight from life. The action by Franz Spilhaus, Amritpal Singh and Amin Khatib is one of the strengths of the film. The VFX by Famulus Media And Entertainment is terrific and one of the best in Bollywood. Aarif Sheikh's editing is sharp.
Overall, ATTACK – PART 1 works because of the novel concept, action, VFX and top-notch performance by John Abraham. Therefore, despite the limited buzz and a weak climax, the film is able to work at the box office and benefit from the clean two-week run.