As expected, Thor: Love and Thunder fell on Monday, with collections failing to reach double digits. This was in sight even after a big opening day; the collections had fallen on Friday. Yes, things went much better on Saturday and Sunday, collections surged again, resulting in a kind of see-saw that isn't in line with the way traditional trends work. However, as the long weekend ensured the job was done, which has already come in at Rs. 64.80 crores, Monday collections of Rs. 6 crores* don't hurt much. The total so far stands at Rs. 70.80 crores*.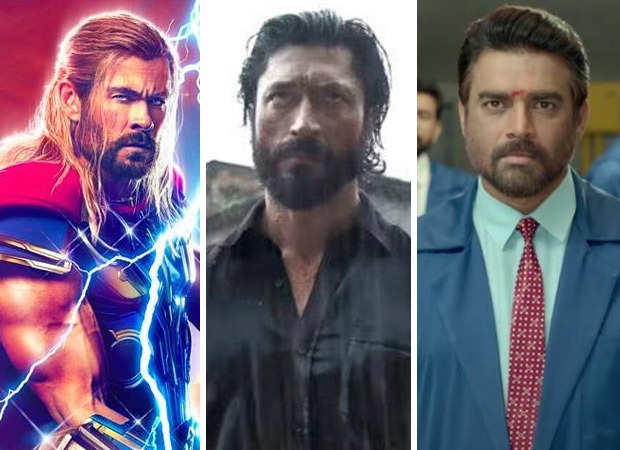 The film that needs to keep a close eye on weekday collections is Khuda Haafiz: Chapter 2. The film didn't quite get off to the start it expected on Friday, and Saturday didn't grow to the extent the creators had hoped. Sunday was good though, especially since Eid fell on that day and the film's content was the kind that drew in the target audience. There was also a good overflow on Monday with Rs. 1.30 crore* more coming in resulting in Rs. 7.45 crores* total. However, what is needed from here are collections that remain stable throughout.
In this aspect Madhavans rocketry has done well as it's getting the kind of viewership that content films used to have before the pandemic. Of course in 2019 the scale was at least 50% higher than this but times were different back then and there was no temptation for an OTT release to happen within 4 weeks. These days, content films struggle due to the minimal time between theatrical and digital releases, although luckily that won't be the case with newer releases.
In the meantime, rocketry tries his best as his second monday [Rs. 1.1 crores*] was bigger than his first Friday [Rs. 0.94 crores], which clearly shows that the film was well liked by the audience and will garner a lot more than its Rs. 13.76 crores* in total.
*Estimates. Final numbers awaited
Note: All collections according to production and distribution sources
Other pages: Thor: Love And Thunder Box Office Collection, Thor: Love And Thunder Movie Review
Loading…