Dasvi Review 2.5/5 & Review Rating
DASVI is the story of an illiterate prime minister. Ganga Ram Chaudhary (Abhishek A Bachchan) is the Prime Minister of Harit Pradesh. He is sent to prison for giving himself in to a teacher's deceit. Immediately Ganga Ram tells his docile wife Bimla (Nimrat Kaur), to become Chief Minister in his absence. First, the responsible policeman Satnam Tomar (Manu Rishi Chadha) provides him with his own quarters in prison. He is allowed to eat cooked food outside and, unlike other prisoners, is not given a job. All of this changes once Jyoti Deswal (Yami Gautam Dhar) is appointed superintendent of the prison. She is a disciplinarian who believes in doing her duty religiously. She forces Ganga Ram to move into a prison cell and eat prison food. She also orders him to take up the work of making chairs. His picture of building a chair goes viral and he becomes the butt of all jokes. An enraged Ganga Ram orders Bimla to relay Jyoti's transfer orders immediately. However, Bimla has tasted blood after taking power. She knows that once Ganga Ram is released, her powers will be ripped from her. Therefore, she reminds Ganga Ram that it was he who put Jyoti in jail after she beat up his party workers. Therefore, another postponement would speak against him. One day, Ganga Ram finds out that some prisoners are students and are preparing for upcoming exams. Also, he is told that those who study are exempt from work. This, along with his childhood dream of graduating, prompts Ganga Ram to announce that he will be taking the Class 10 exams. In a fit of anger, he also bets with Jyoti that if he fails in the 10th bodies, he will never become prime minister again. What happens next forms the rest of the film.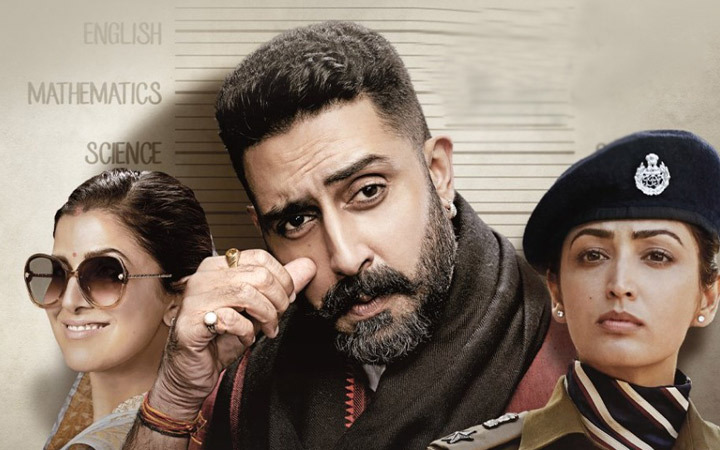 The story of Ram Bajpai is promising. However, the script written by Ritesh Shah, Suresh Nair and Sandeep Leyzell is bad. The film is meant to be a comic caper. However, there are hardly any funny moments in the film that make the viewer laugh. There are also several loopholes in the script. Ritesh Shah, Suresh Nair and Sandeep Leyzell's dialogue is sharp, but only in a few places. A film of this nature should have had witty and hilarious dialogue throughout the narrative.
Tushar Jalota's direction is average, although the message about the importance of education gets across well. He also handled some moments well. This is especially the case in the last part of the film. The scene calling the results of Ganga Ram is one such sequence that shows the director has potential. Another track that works is the bond between Jyoti and Ganga Ram and how it develops as the story progresses. Bimla's transformation is pretty badass too. However, Tushar Jalota should have really focused on how a shy and soft-spoken Bimla suddenly turned into such a heartless and manipulative person. The change in her personality is too sudden. Additionally, if the creators had shown that Ganga Ram was constantly mistreating her, then it would have made sense to see Bimla get even with Ganga Ram after she took power. But Ganga Ram didn't seem rude to her. The lonely scene at the beginning between Ganga Ram and Bimla showed that the former actually insists that the latter should develop an attitude since she is the CM's wife. So it's not convincing why Bimla is so unkind to her husband. The whole scam trail didn't impress either, as it's not properly explained. The creators probably wanted to keep the narrative concise, and while they succeeded, these crucial details weren't given the attention they deserve, which diminishes the impact.
ROFL – When Abhishek Bachchan led the class | teasers | Dasvi | Nimrat Kaur
Abhishek A Bachchan gives a sincere performance. He tries his best to make his performance entertaining and succeeds. Nimrat Kaur is a surprise. She gets a great role to play and she reinforces it with her performance. The scenes where she takes the CM's oath and beats up an employee are too good. Yami Gautam Dhar also does well and convinces in the role of a strict policeman. Manu Rishi Chadha is decent. Chittaranjan Tripathy (Tandon; IAS Officer) is fine. Arun Kushwaha (Ghanti) is doing well. Danish Husain (Rae Bareli; librarian) and the actors playing Prem Qaidi and Inaamdar are fine. Dhanveer Singh (Ganga Ram's brother) is finished.
Sachin-Jigar's music will not last long. 'Macha Macha Re' is like the film's theme song and is well woven into the narrative. 'Nachralo' is forgetful. 'Than Liya' gives the déjà vu of 'Ek-Jindari'. 'Ghani Journey' absent from the film. The background music by Sachin-Jigar keeps the mood light-hearted and fun.
Kabir Tejpal's cinematography is decent. Mayur Barate's production design is realistic. Sheetal Iqbal Sharma's costumes are not glamorous but look appealing. The processing of a Sreekar Prasad is good.
Overall, DASVI is based on an interesting story and message and the impressive performances of the three main actors. However, due to the flawed script, it turns out to be an average fare.